Study authors recently showed that tens of thousands of dental patients were hospitalized over a 9-year period for a preventable condition. Your regular care in this office can prevent dental infections!
A first-of-its-kind study found that hospitalizations for untreated tooth abscesses are on the rise. The study of 61,439 patients hospitalized for oral infections was conducted by the Harvard School of Dental Medicine and Boston Children's Hospital.
Their findings were published in the Journal of Endodontics. The number of patients hospitalized for dental infections—that could have been prevented with in-office care—rose nearly 42 percent!
"Over 89 percent of the patients with dental infections were hospitalized after an emergency room visit, indicating a lack of regular preventive care," noted lead researcher, Andrea Shah.
Study co-author, Kelly Leong, warned, "By the time these infections require hospitalization, they are serious, and though it is rare, they can even be fatal."
According to the study, "Left untreated, these abscesses can...spread infection to nearby bone and facial tissue, potentially eroding the bone and requiring surgery to clear the infection and reconstruct the bone."
The researchers pointed out that, "[Oral] infections can be detected with a simple dental [x-ray] and clinical exam. Preventive care every six months would help stop the infection (P. Gingivalis) from getting out of control."
Preserve Your Well-Being...and Your Wallet!
Your typical bill for an average 3-day stay for treatment of an abscessed tooth—could run you about $14,245! Yet the cost of a preventive dental exam, restorative filling or even a root canal pales in comparison!
Early on, you may have no symptoms; however, an oral infection can progress rapidly. If it's been more than six months since we've seen you and your family, please schedule your oral exam today!
Dr. Mike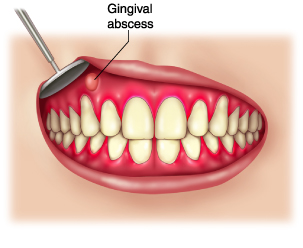 Leave a Reply